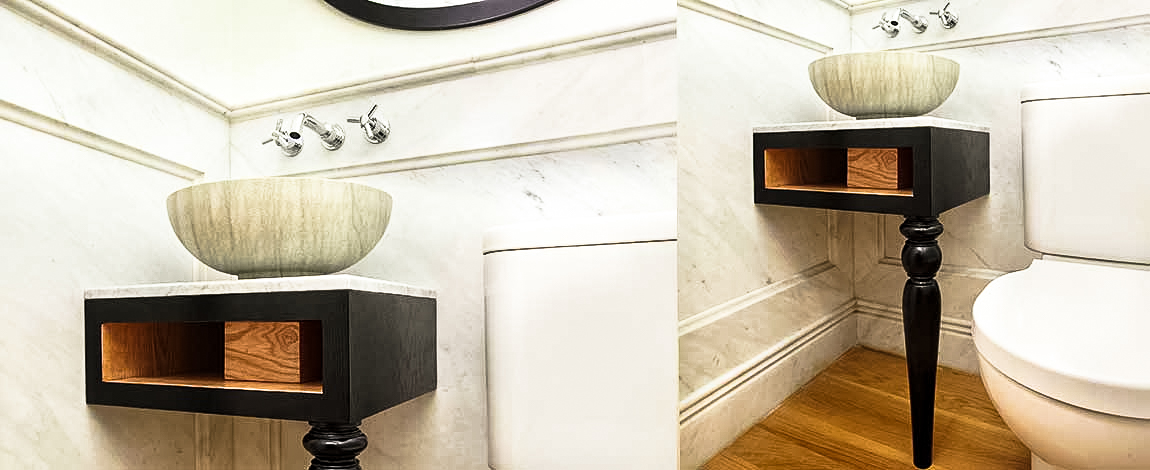 designed: 2014 by ramzi makram-ebeid
The best thing about working with Ramzi is that he gives you personal attention more than any designer I have ever worked with. He follows up with the manufacturer, and is happy to work with someone the client recommends. Either way, he follows up both at the factory or on site as needed more than anyone I know. And he gets it done to perfection! Thank you Ramzi!

Omar Abou Alam & Naila Halawa
Working with this beautiful Eklego designed bathroom, I wanted something that worked with the oval black oak mirror the client had already purchased, as well as the dramatic marble paneling of the space.
Always liking to balance elements throughout the space, I used the entry bench's legs as inspiration for this piece.
By rescaling the leg, I realized that we could only use one leg for aesthetic purposes, and we'd have to support the rest of the console via the bathroom wall.
The black stain is the same finish, while the interior (an area designated for towels and toiletries) is the same oak finish of the flooring. 
The clients had already purchased a cool stone sink, and as this worked very well with their marble top already, I decided to reuse the material for the console top.