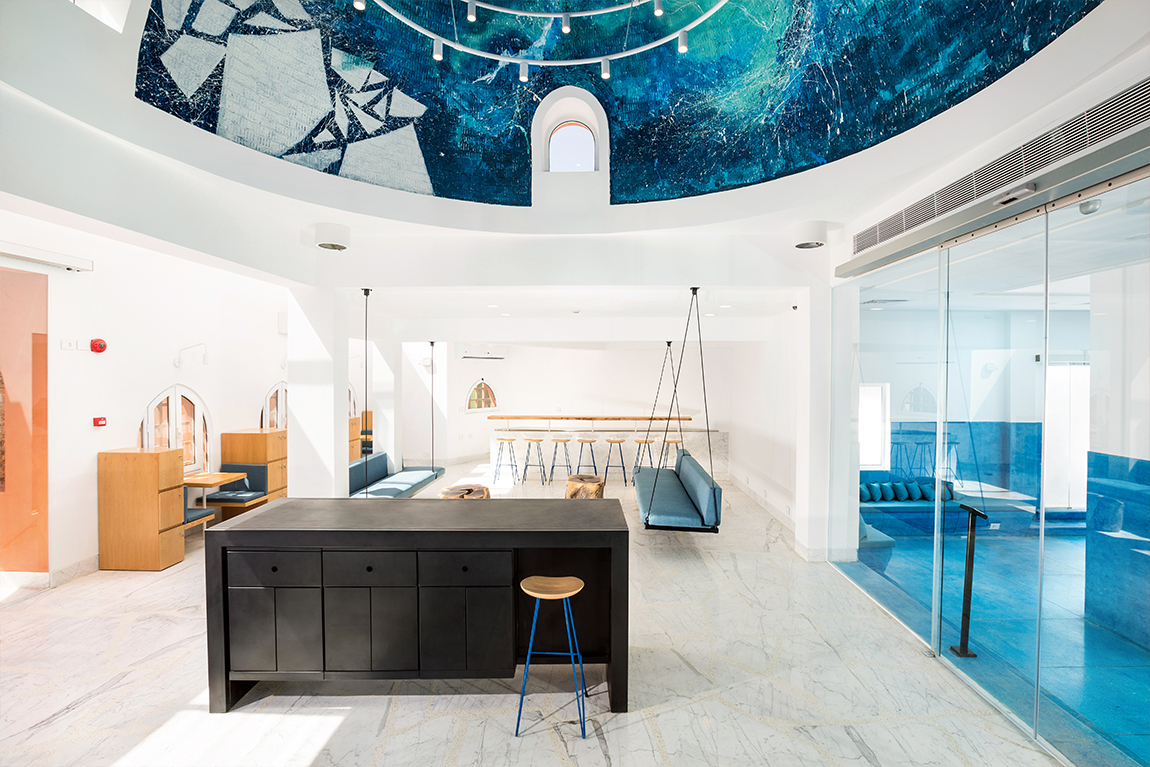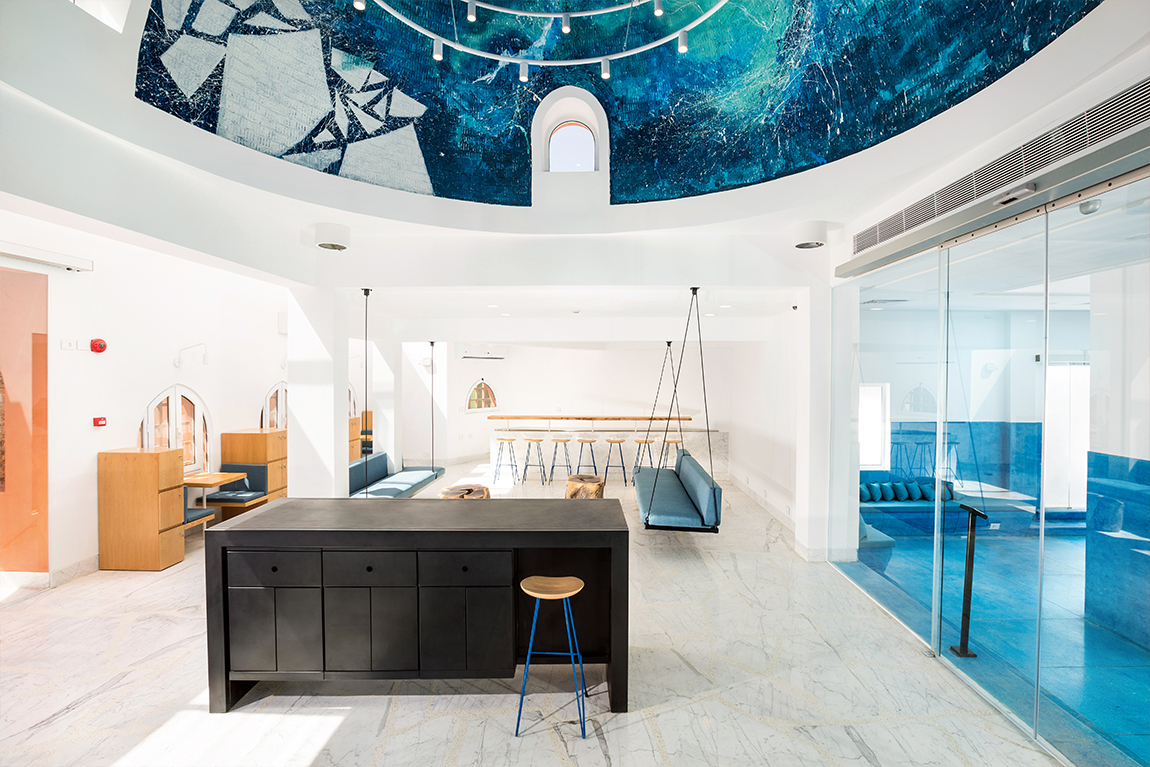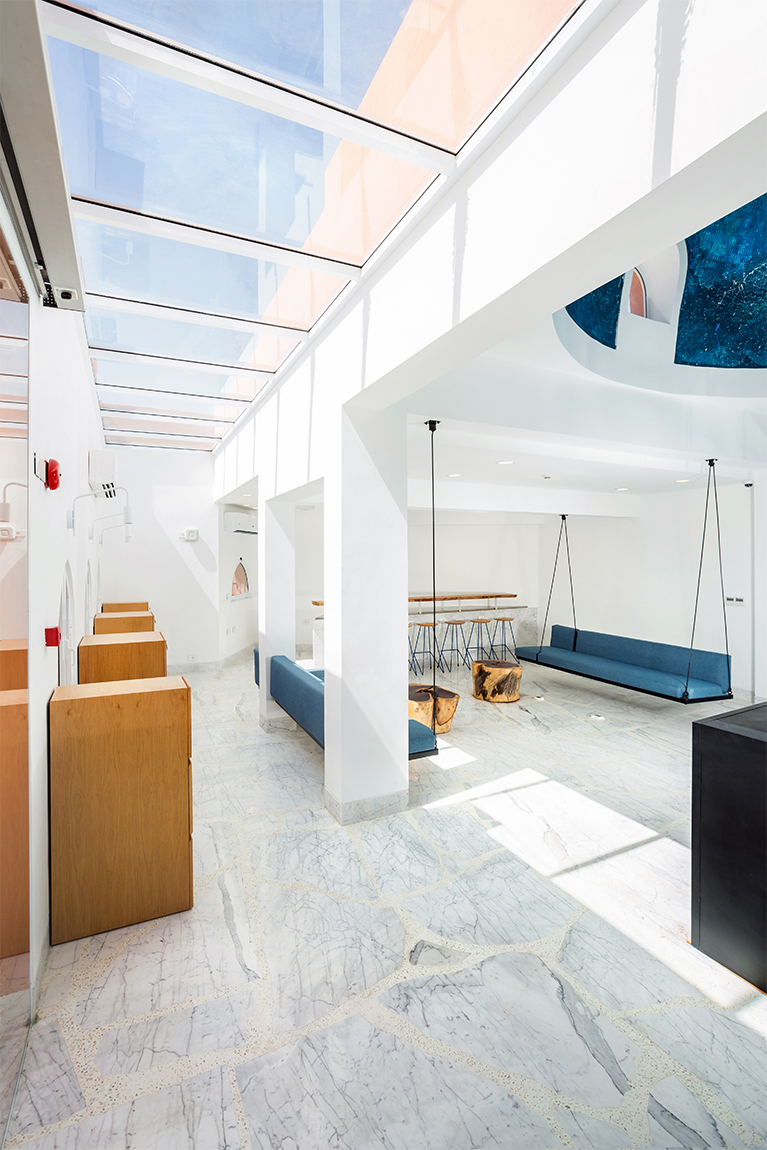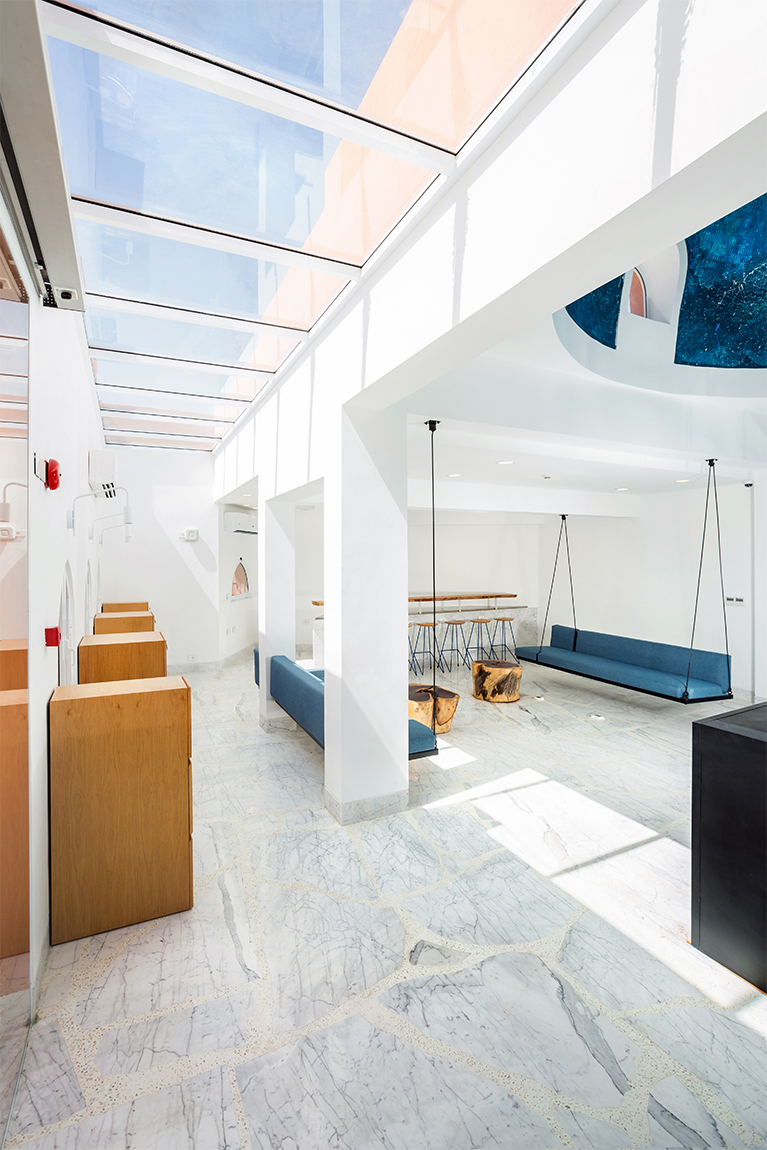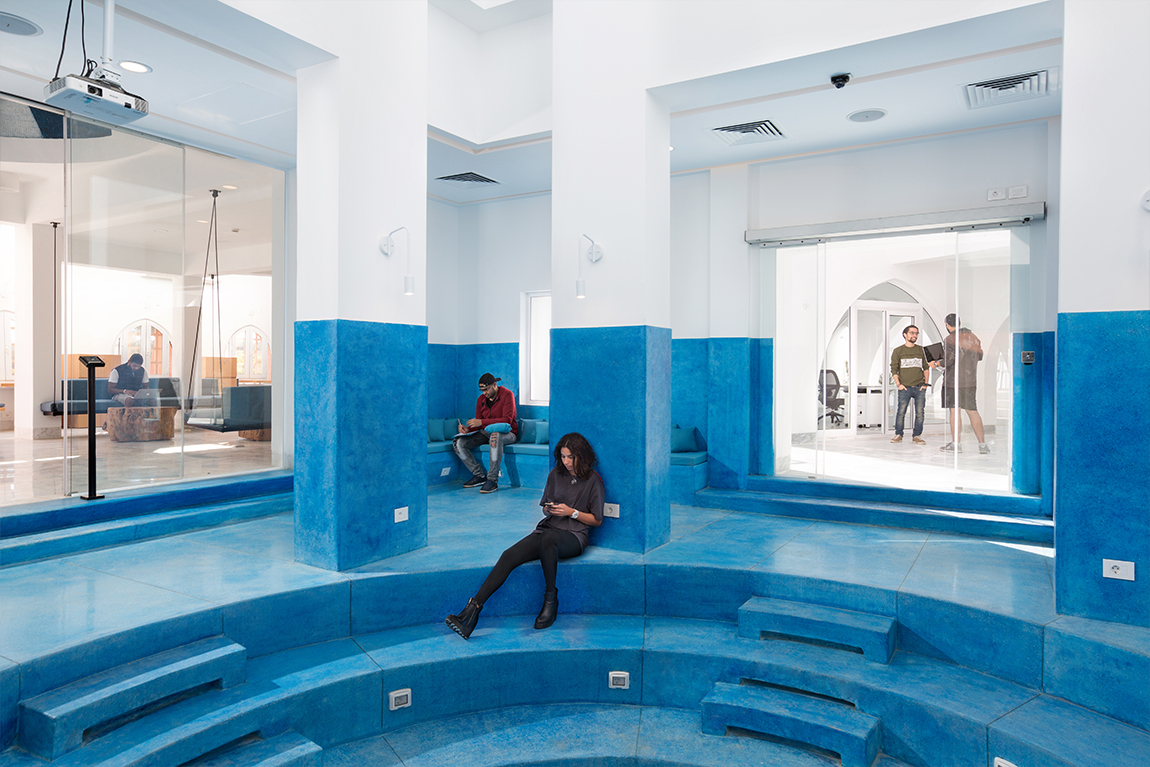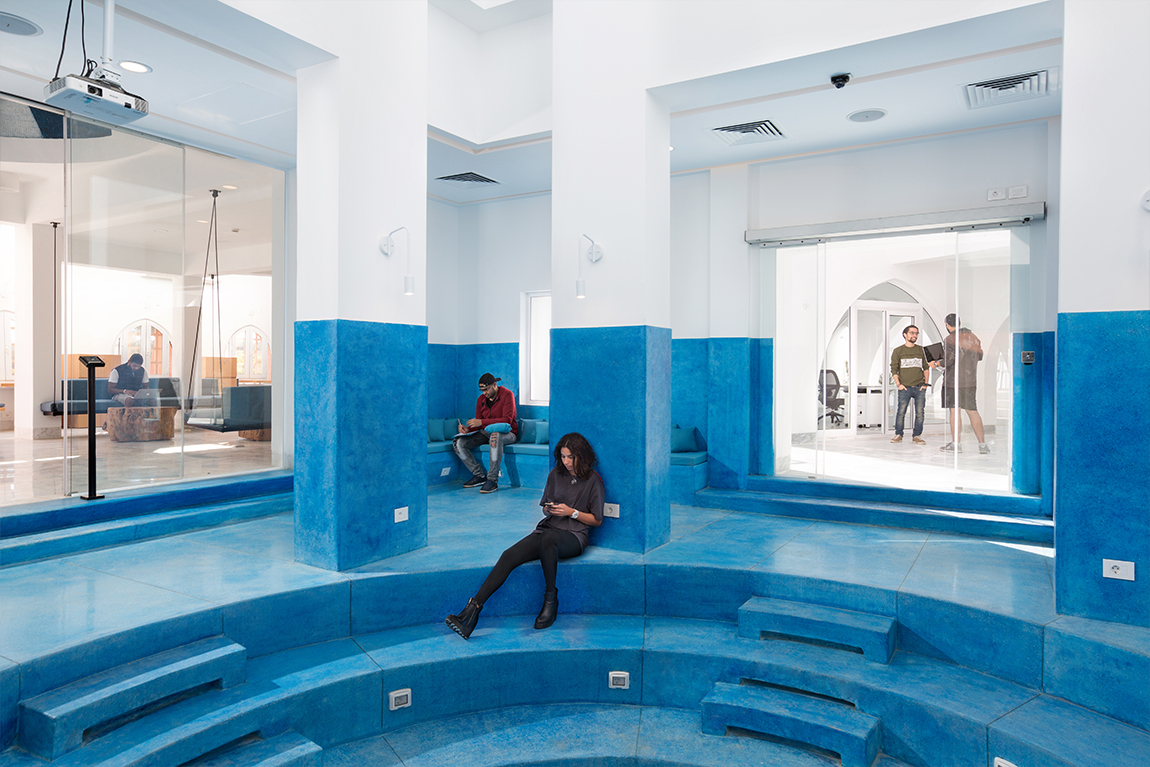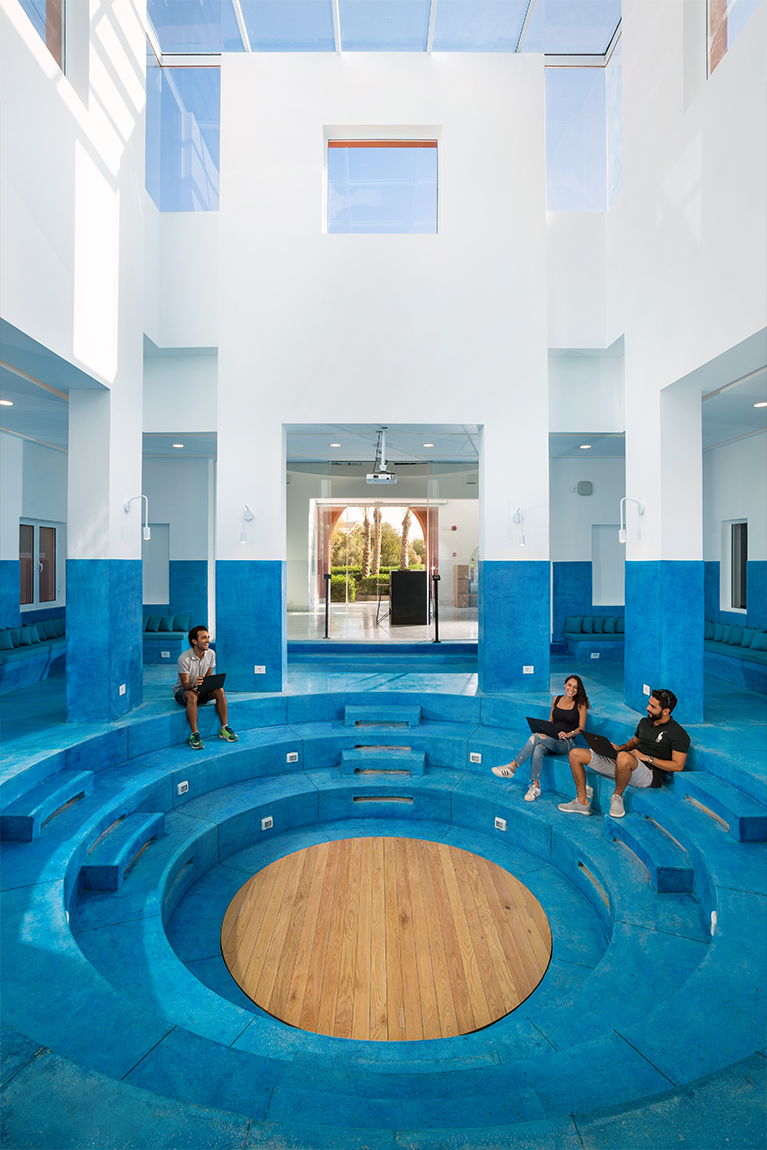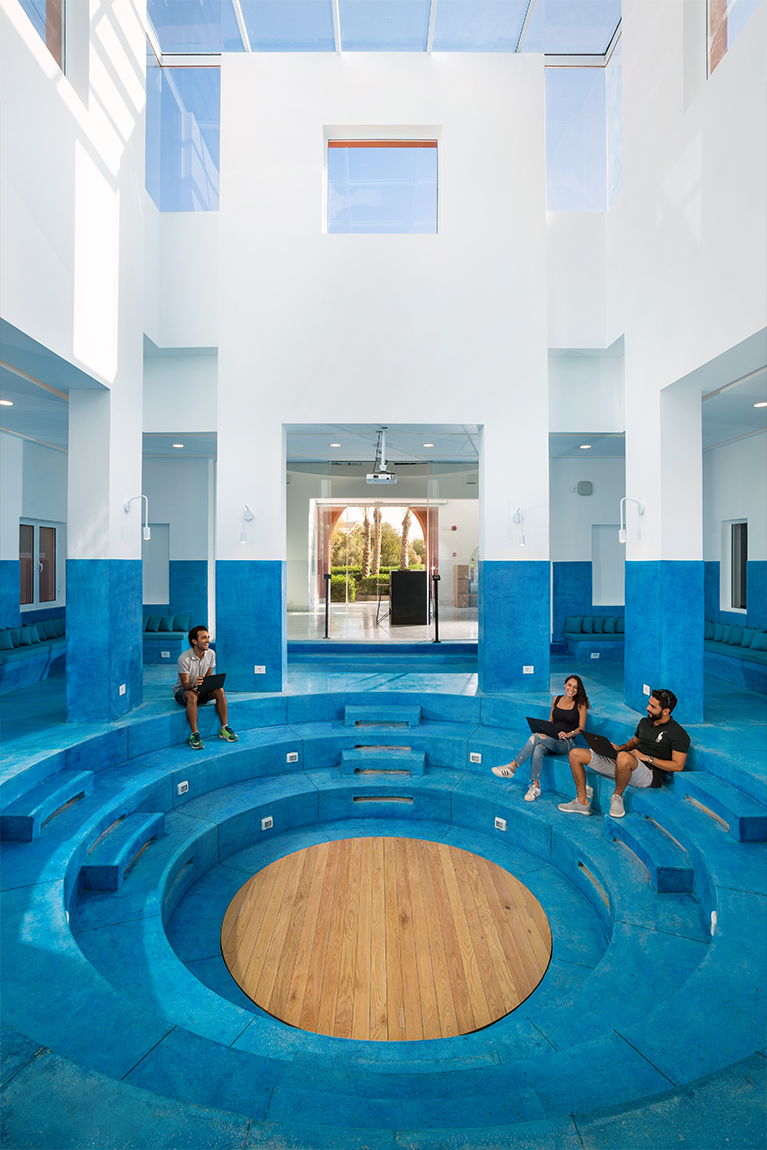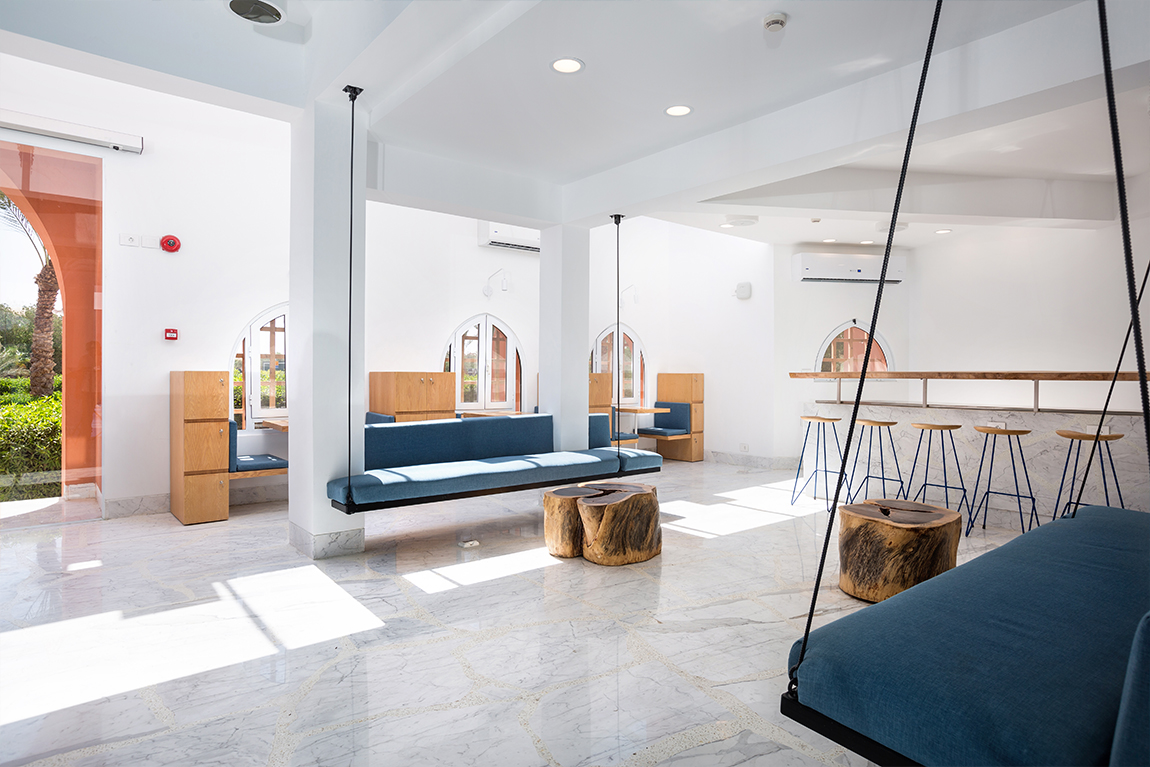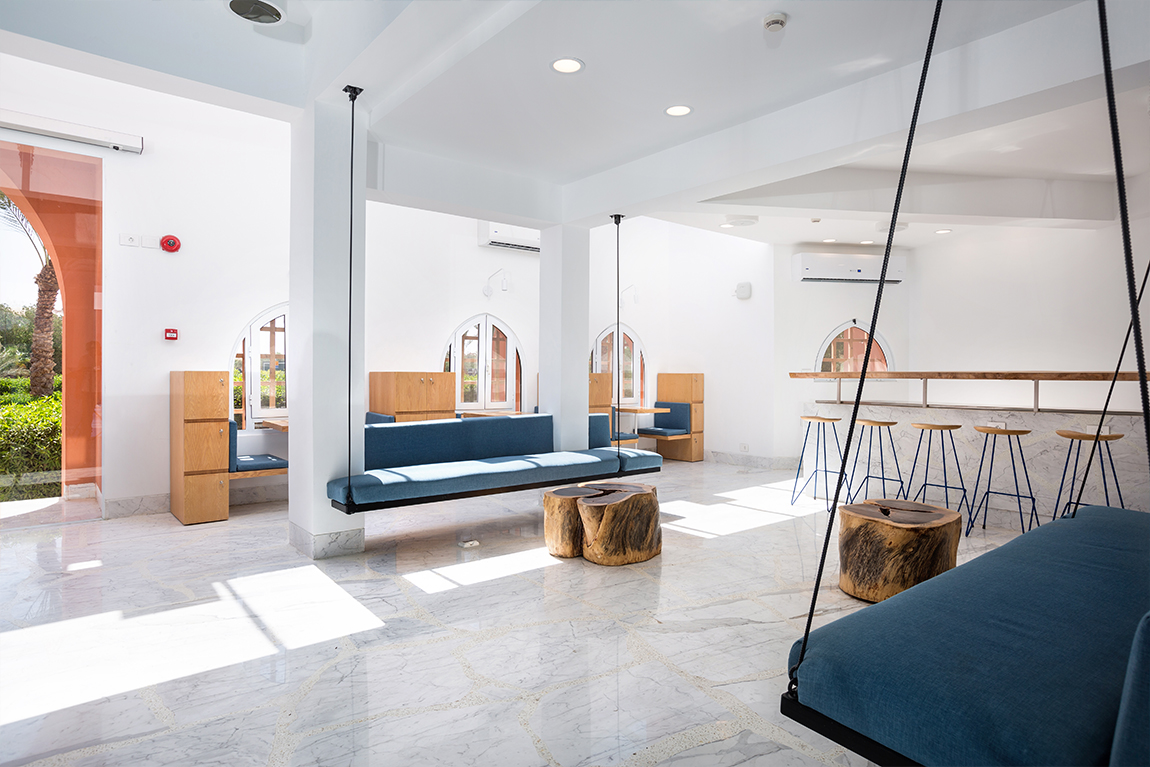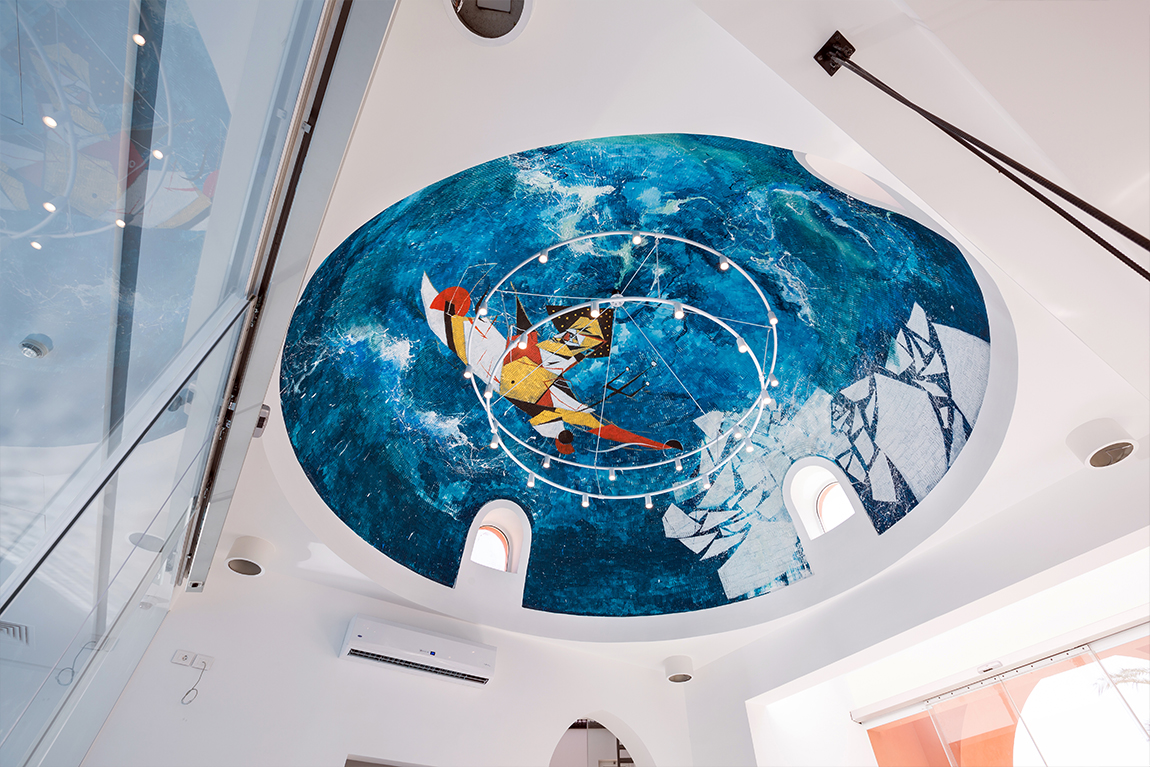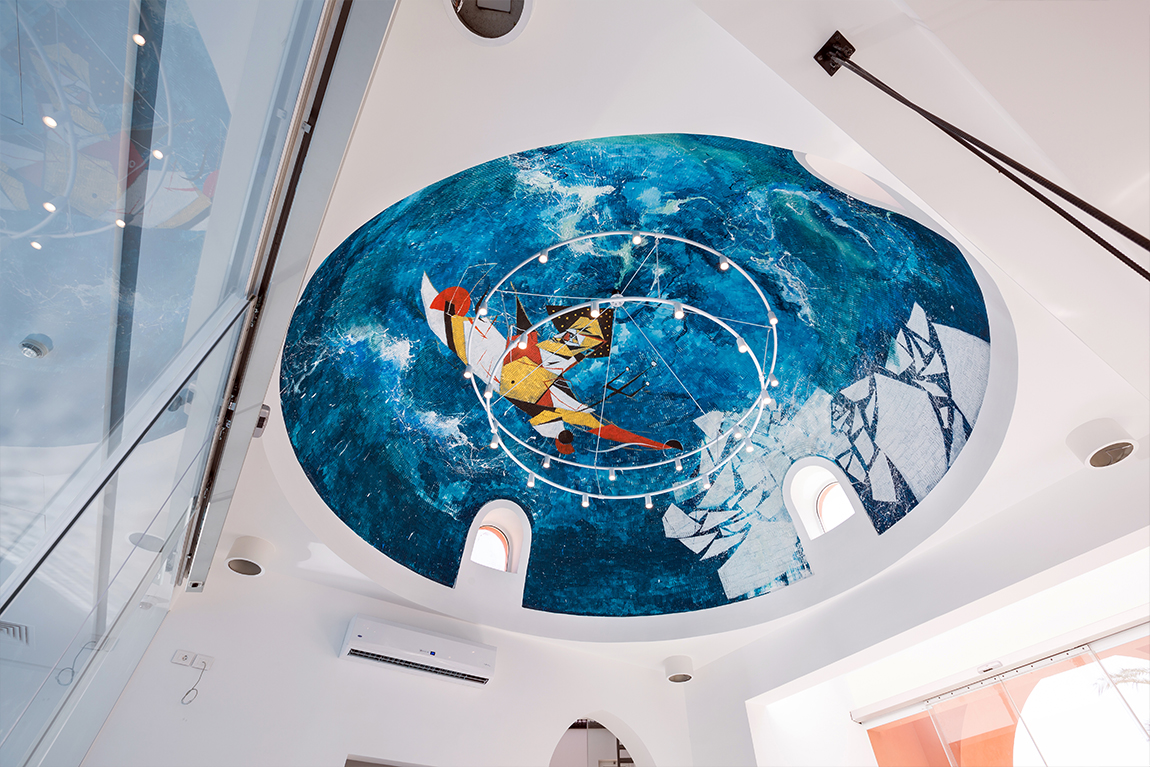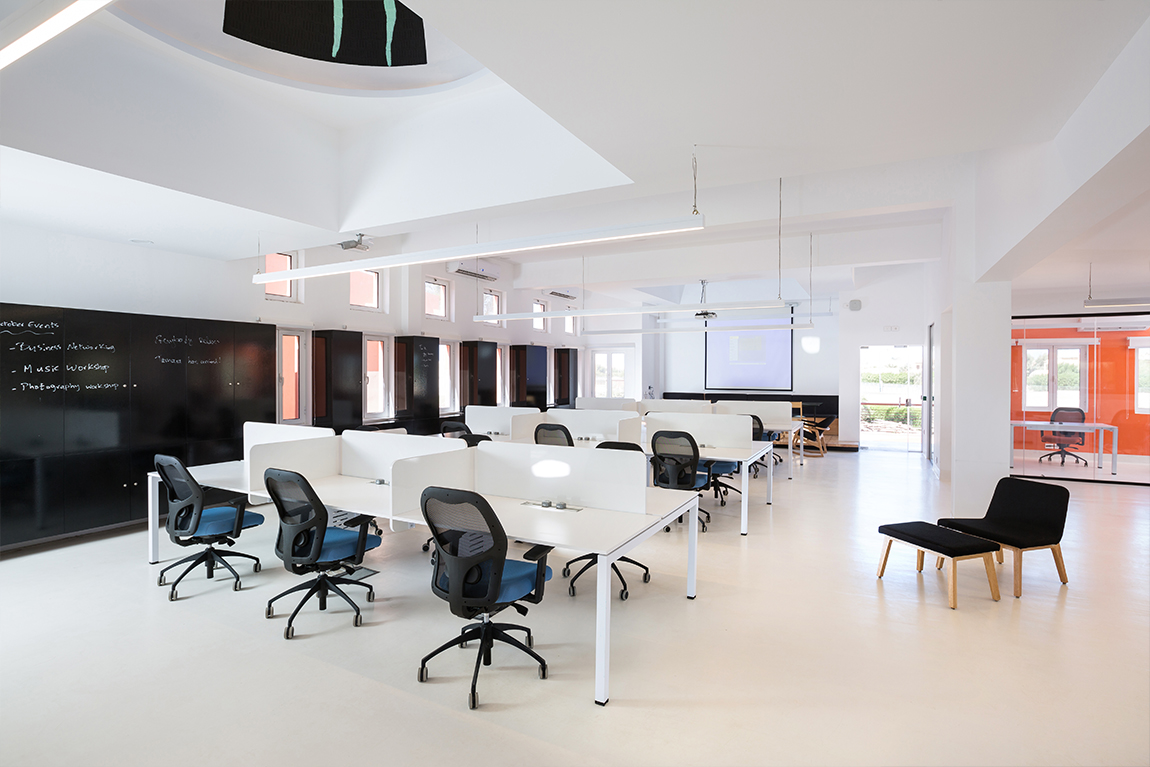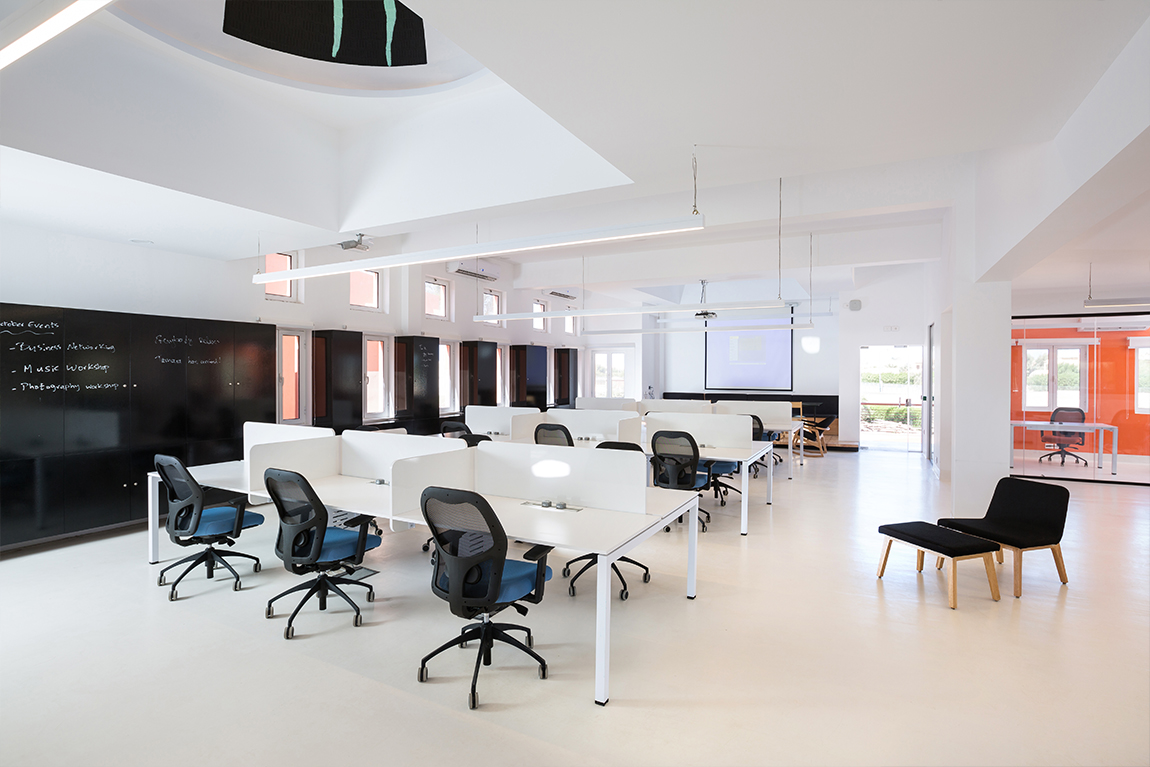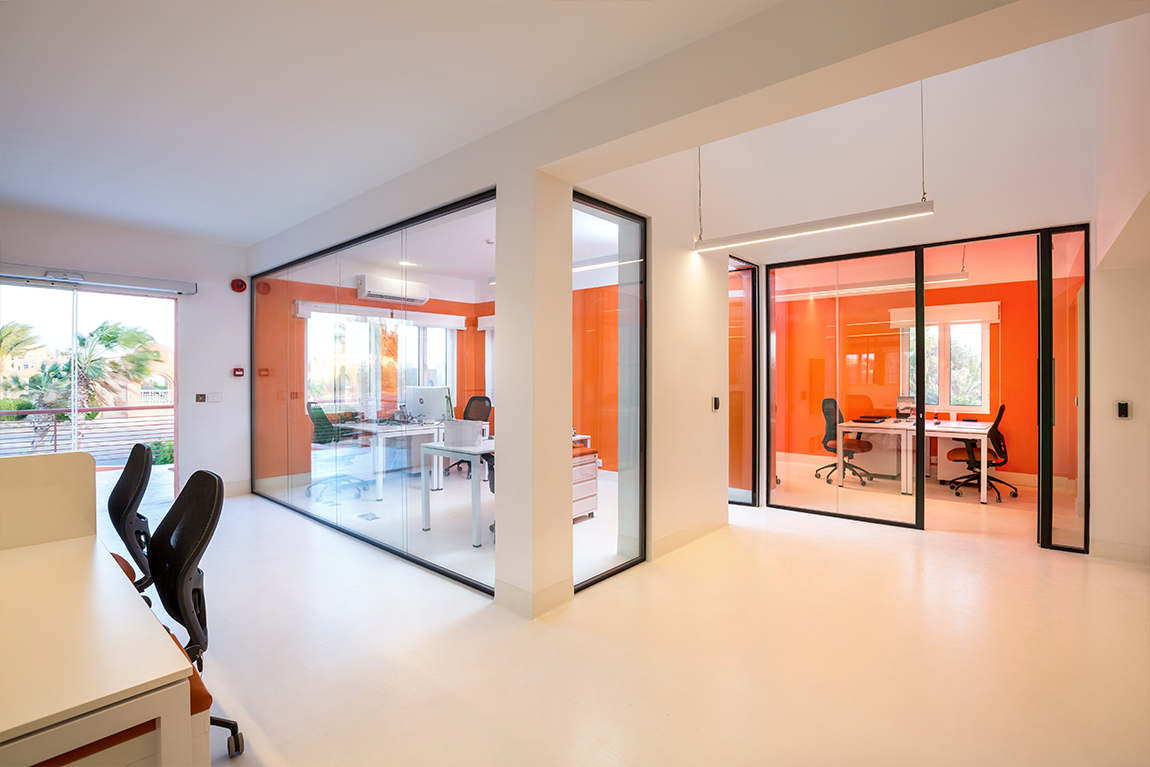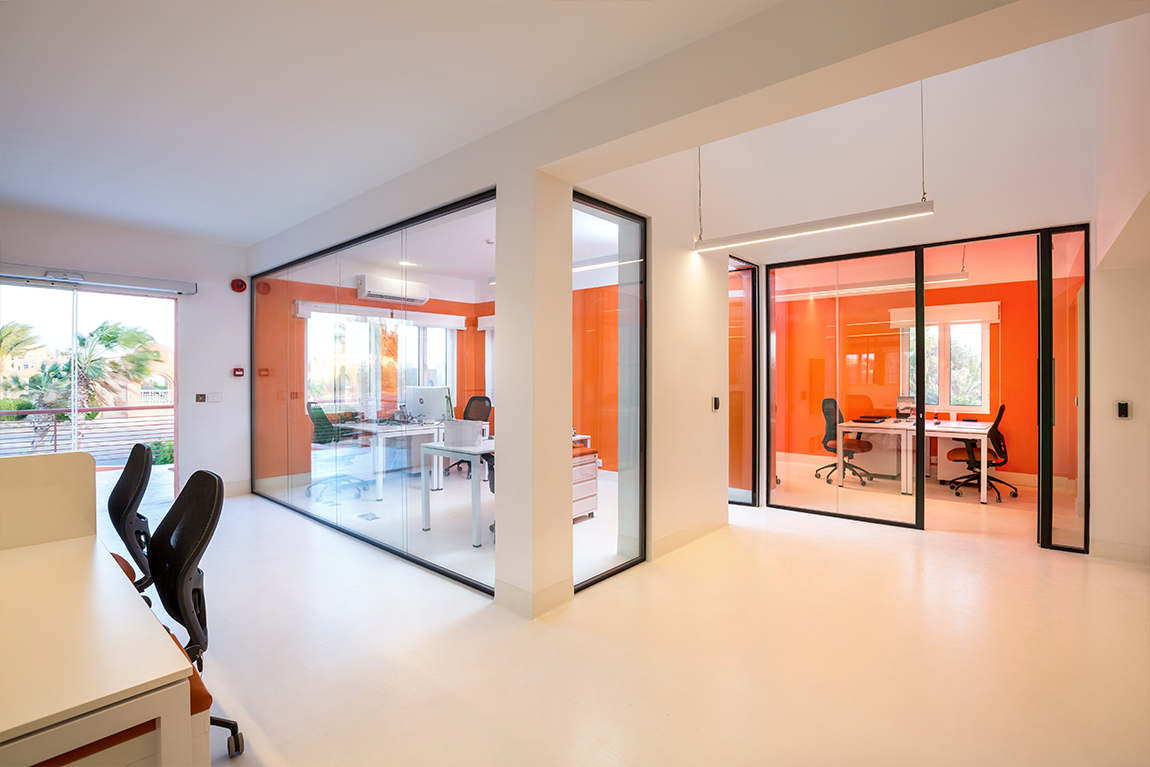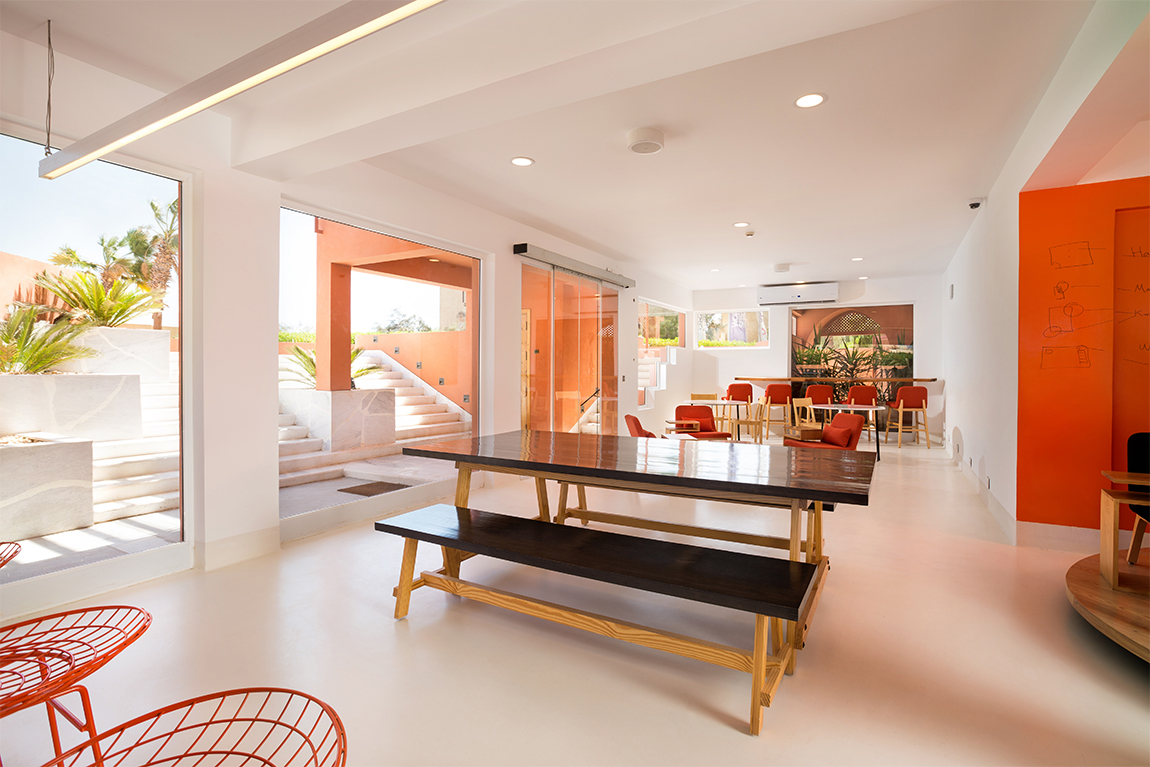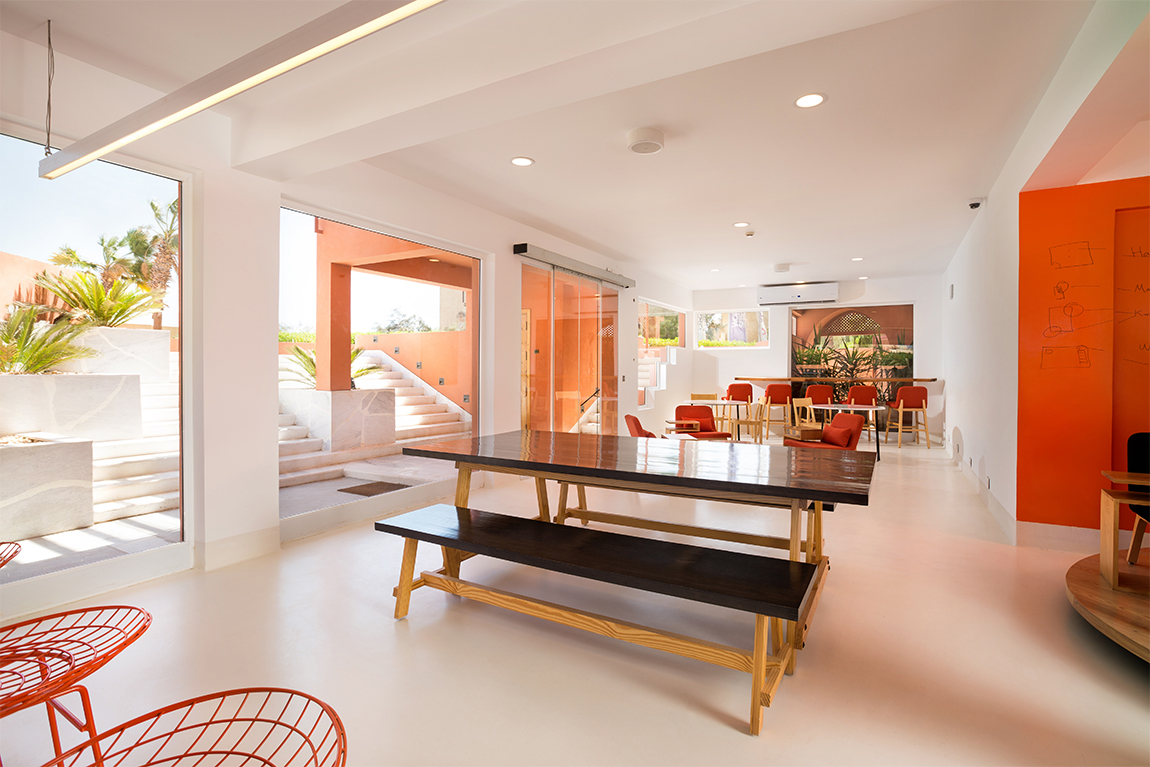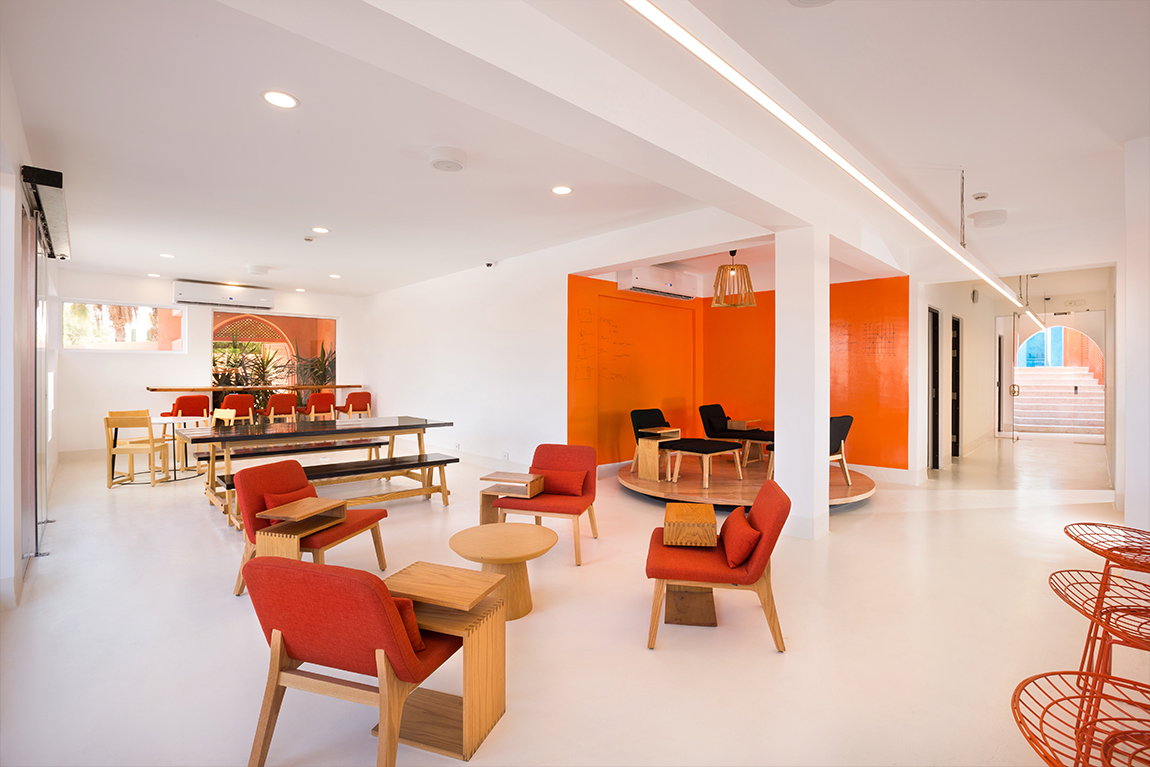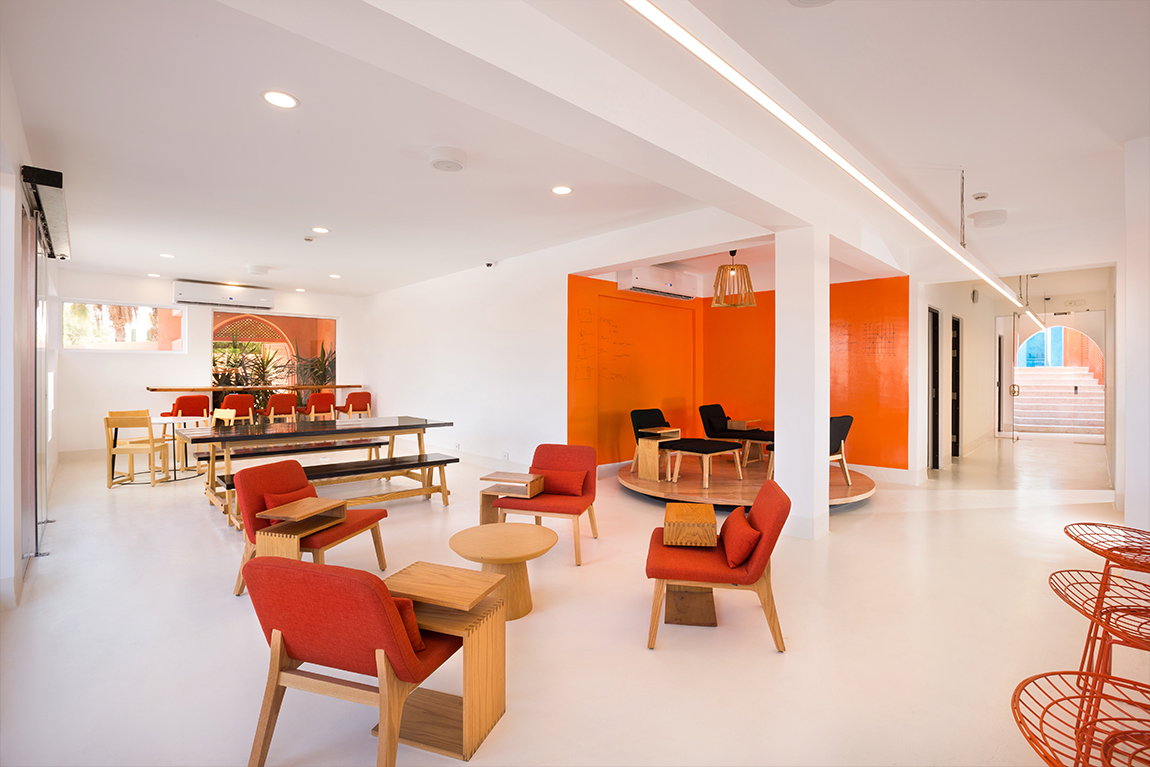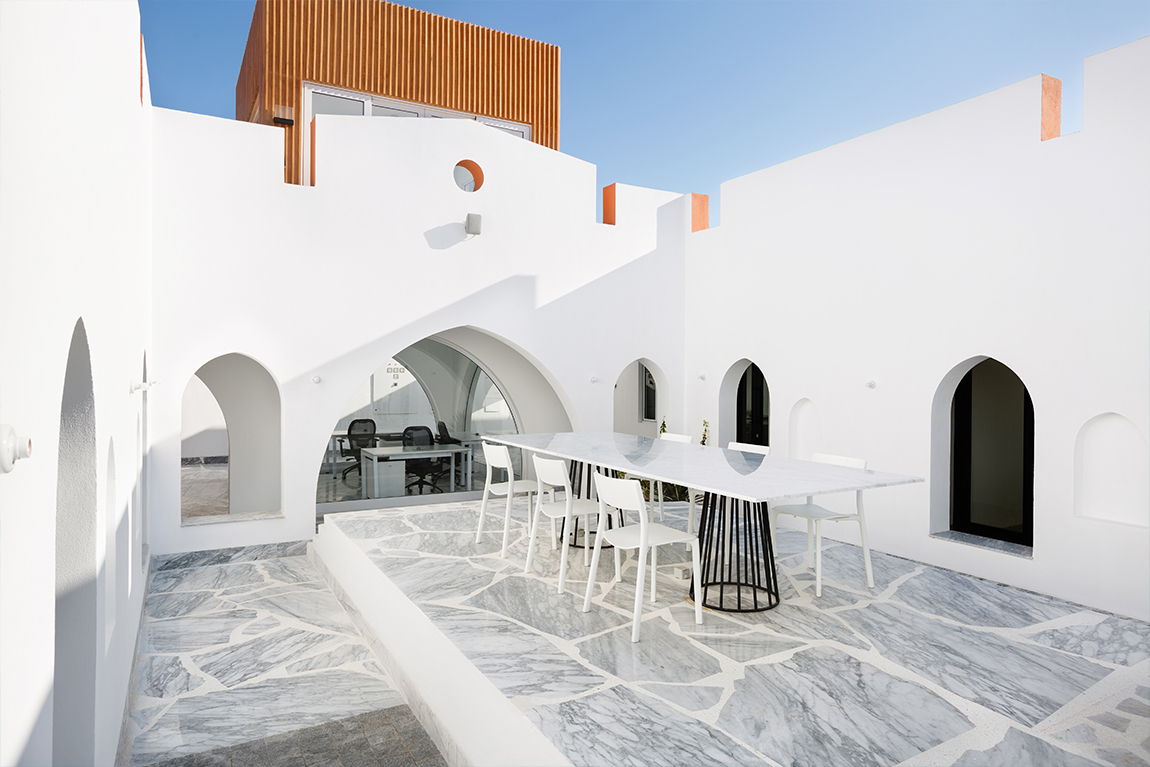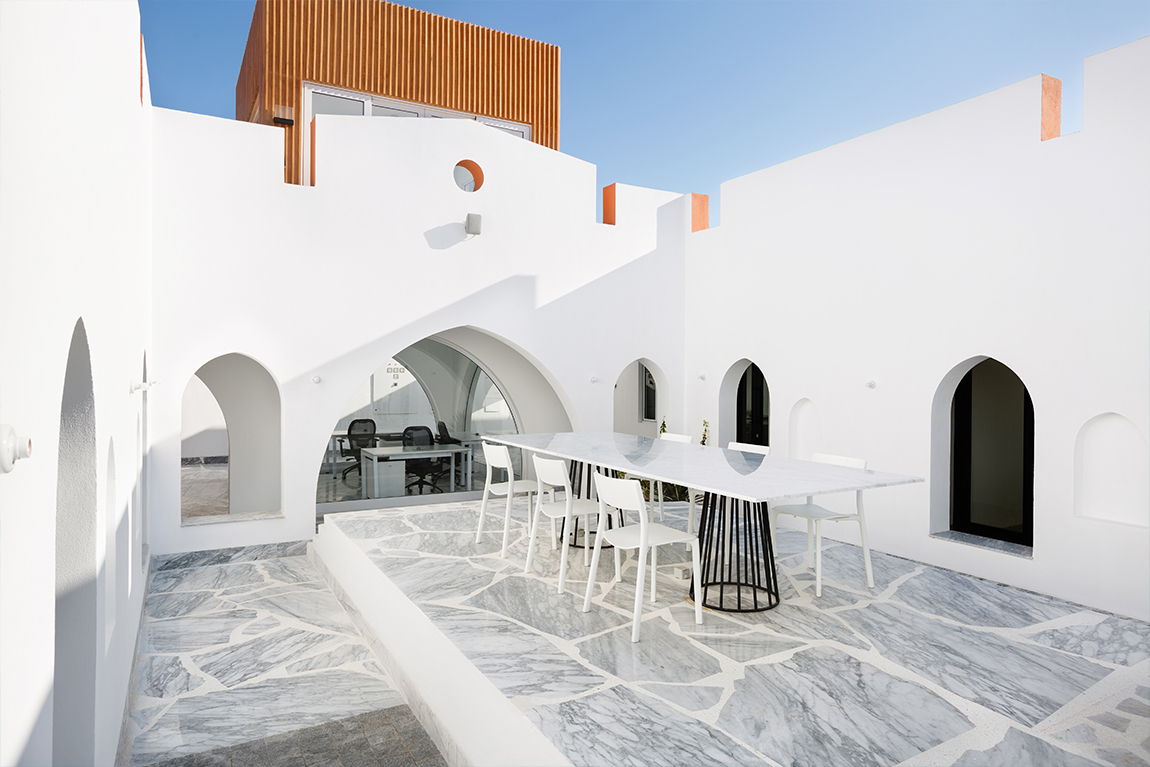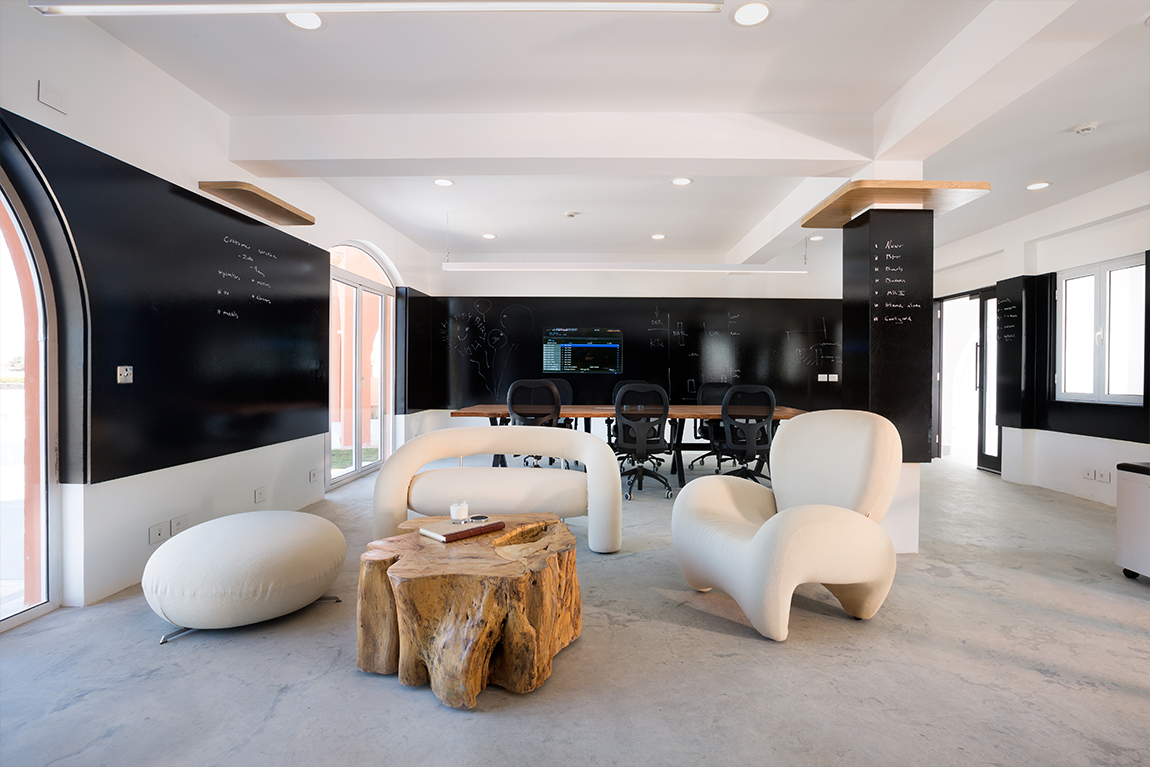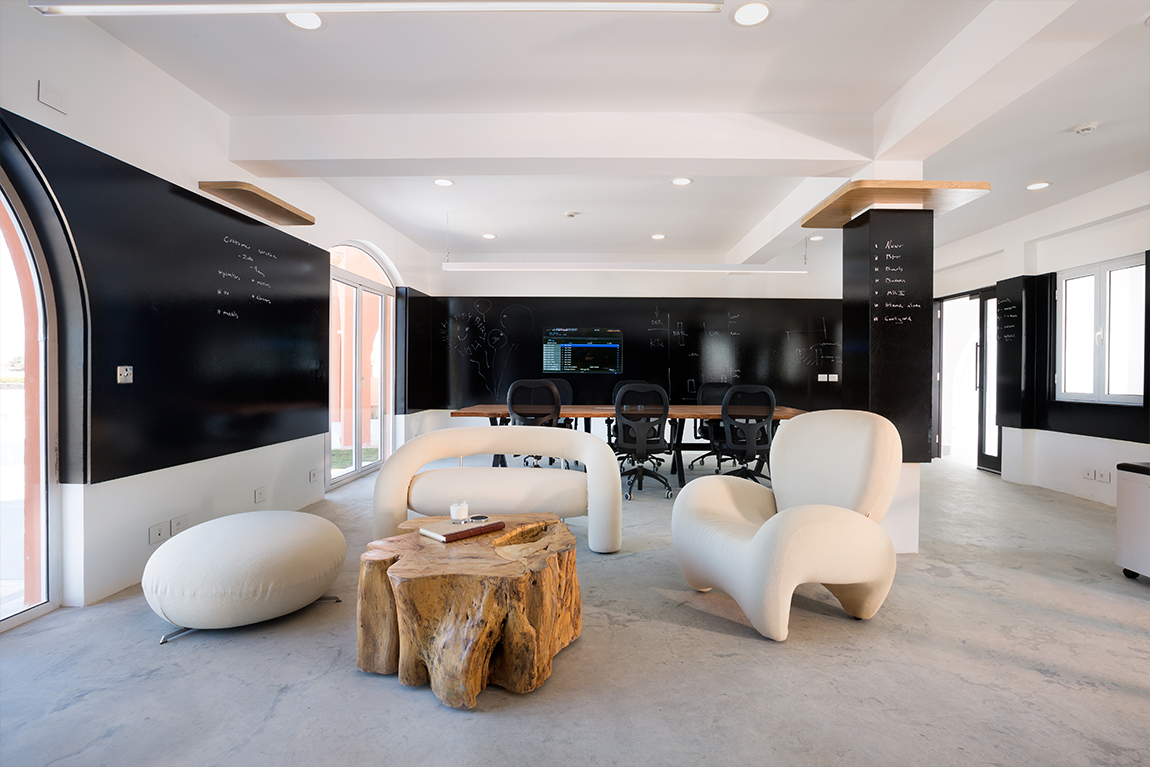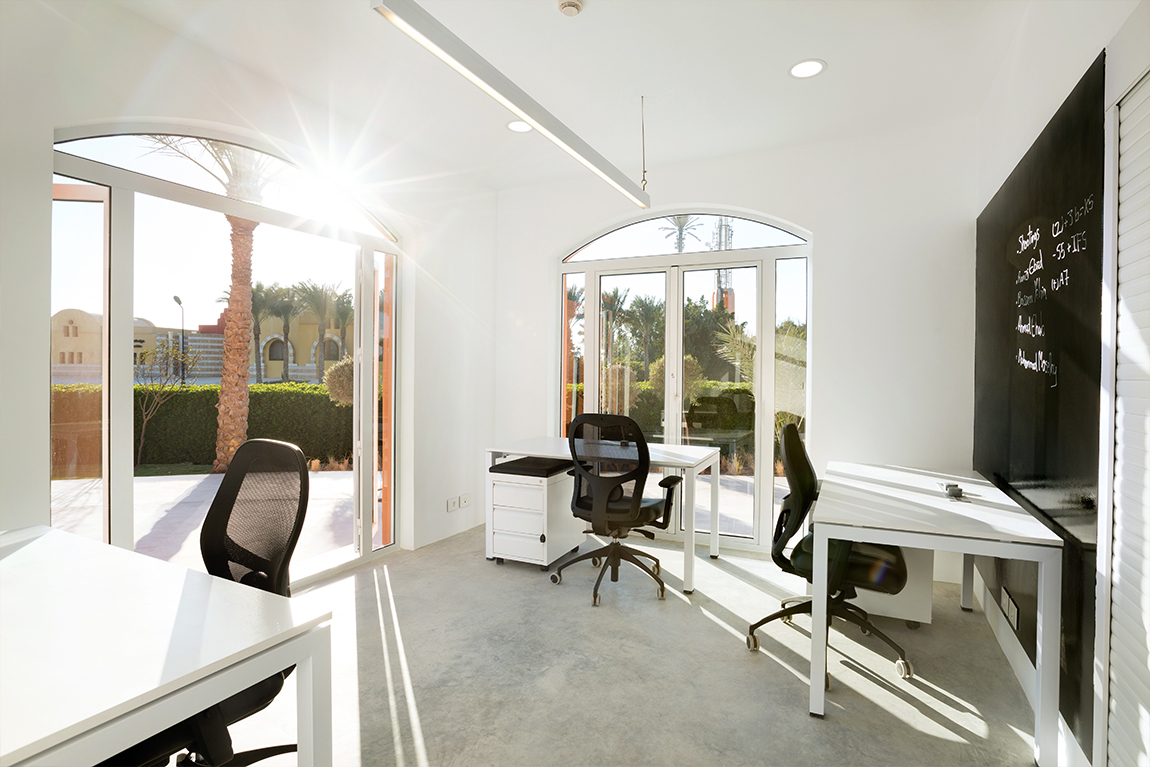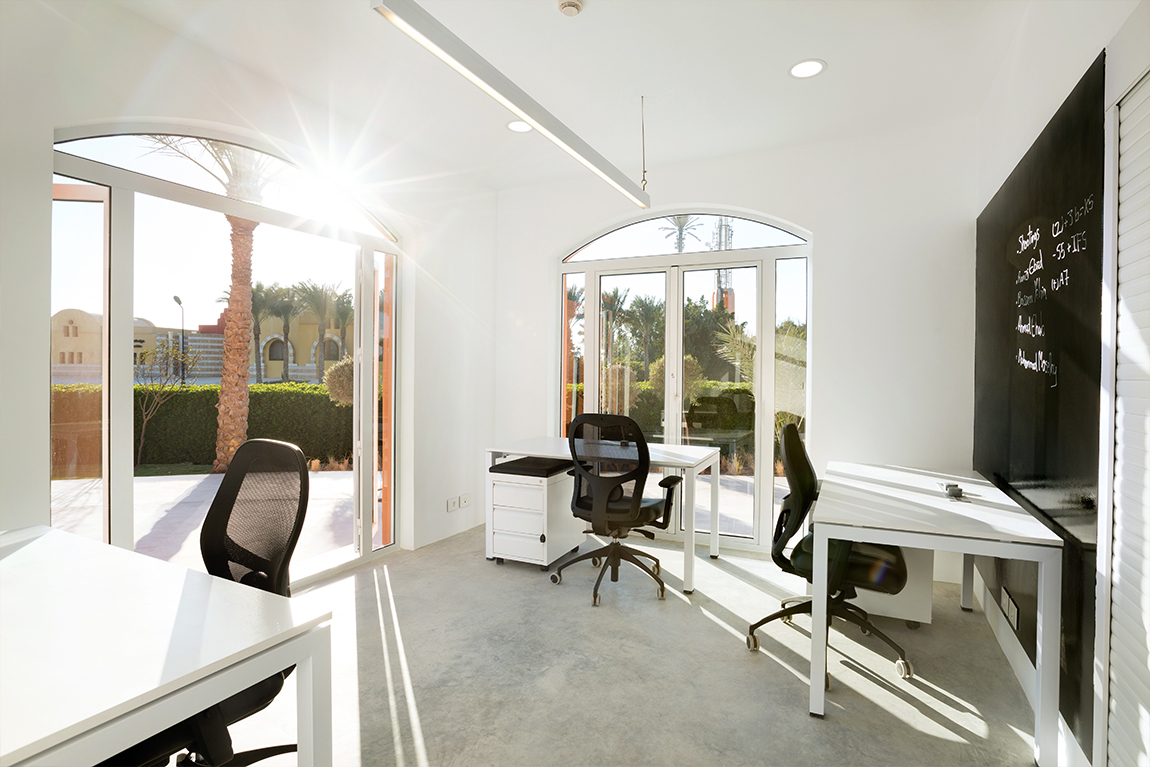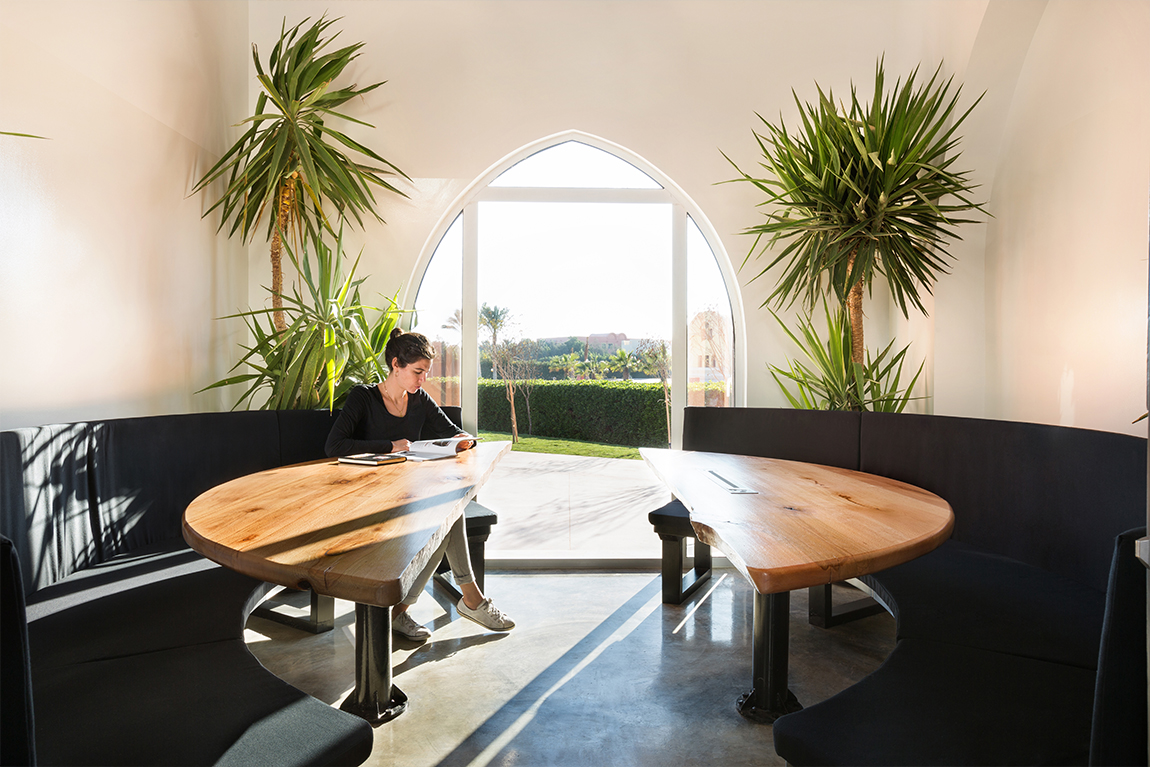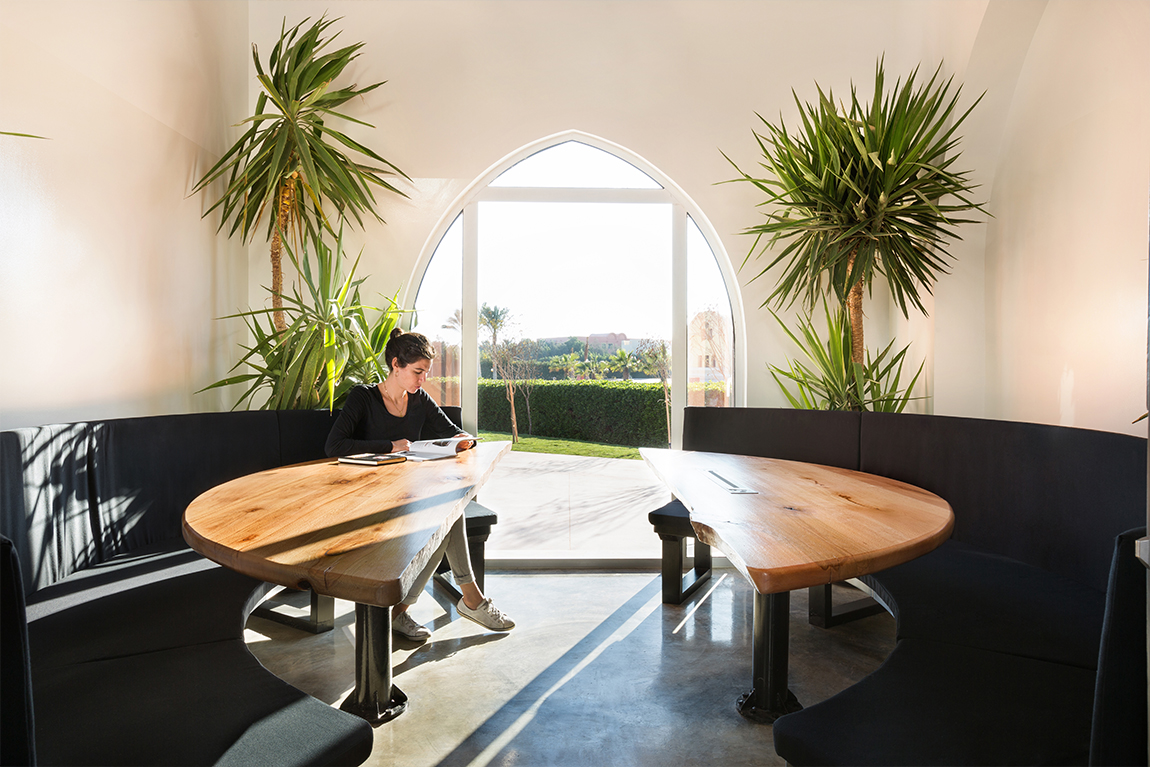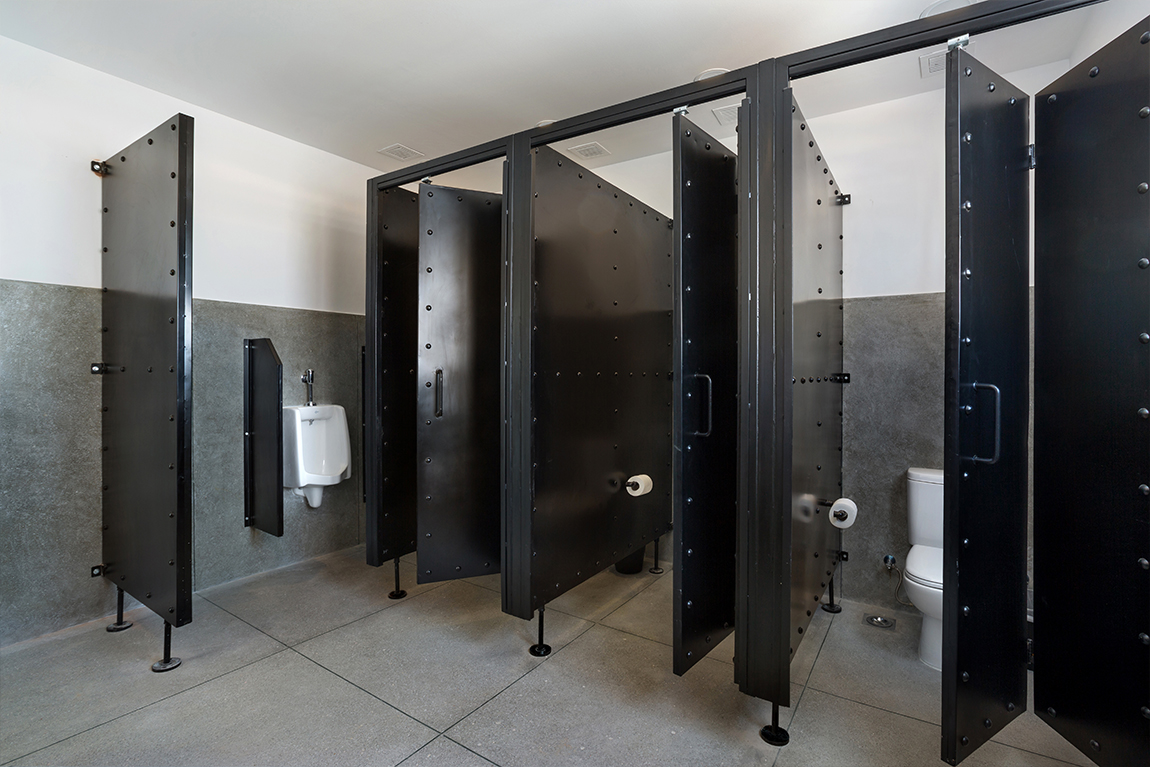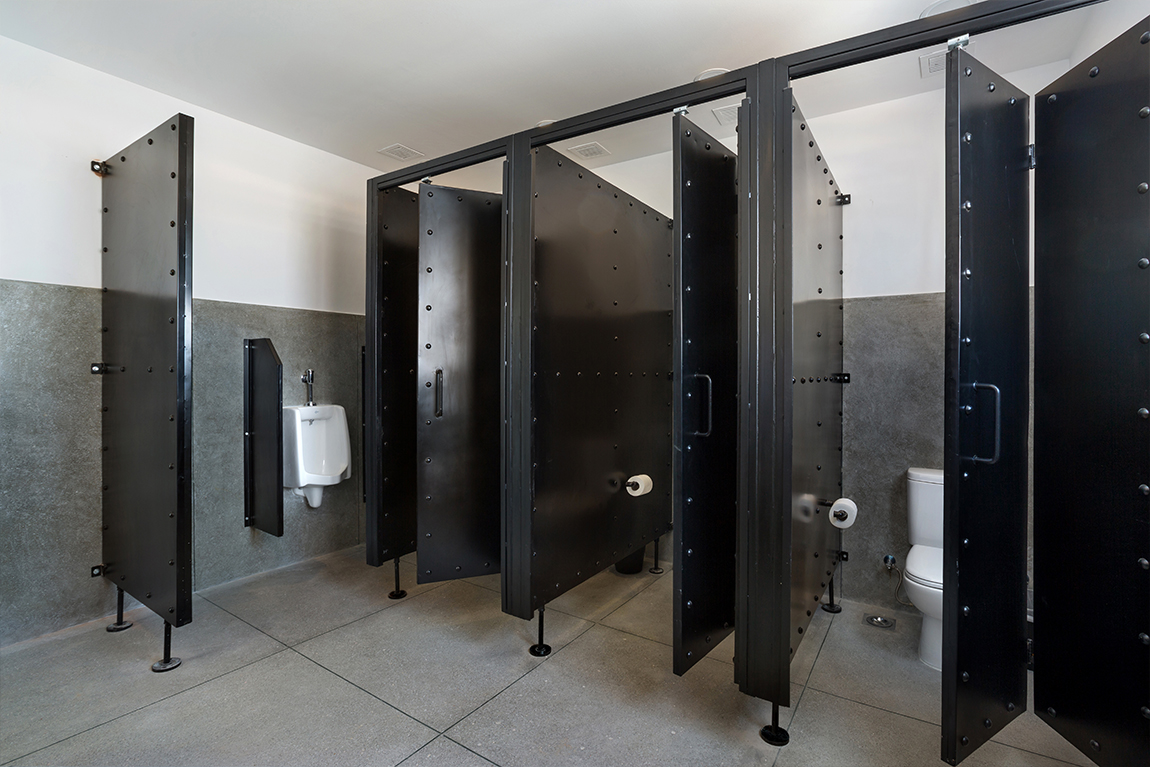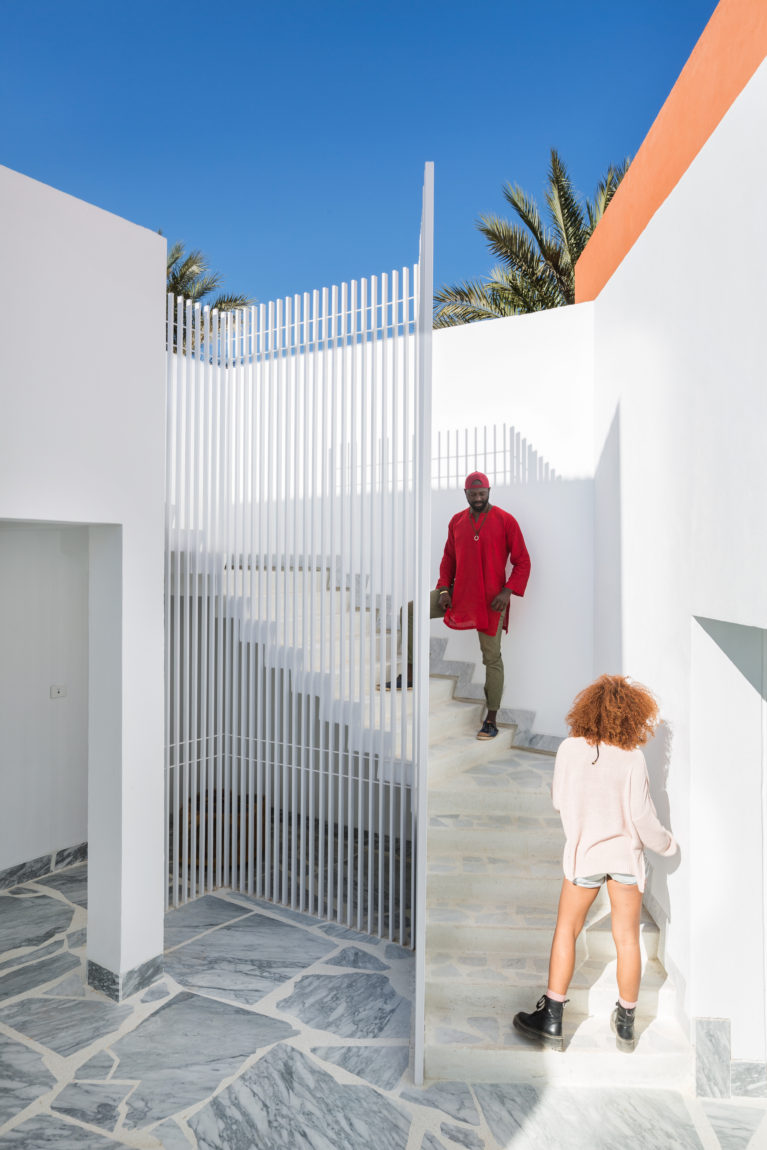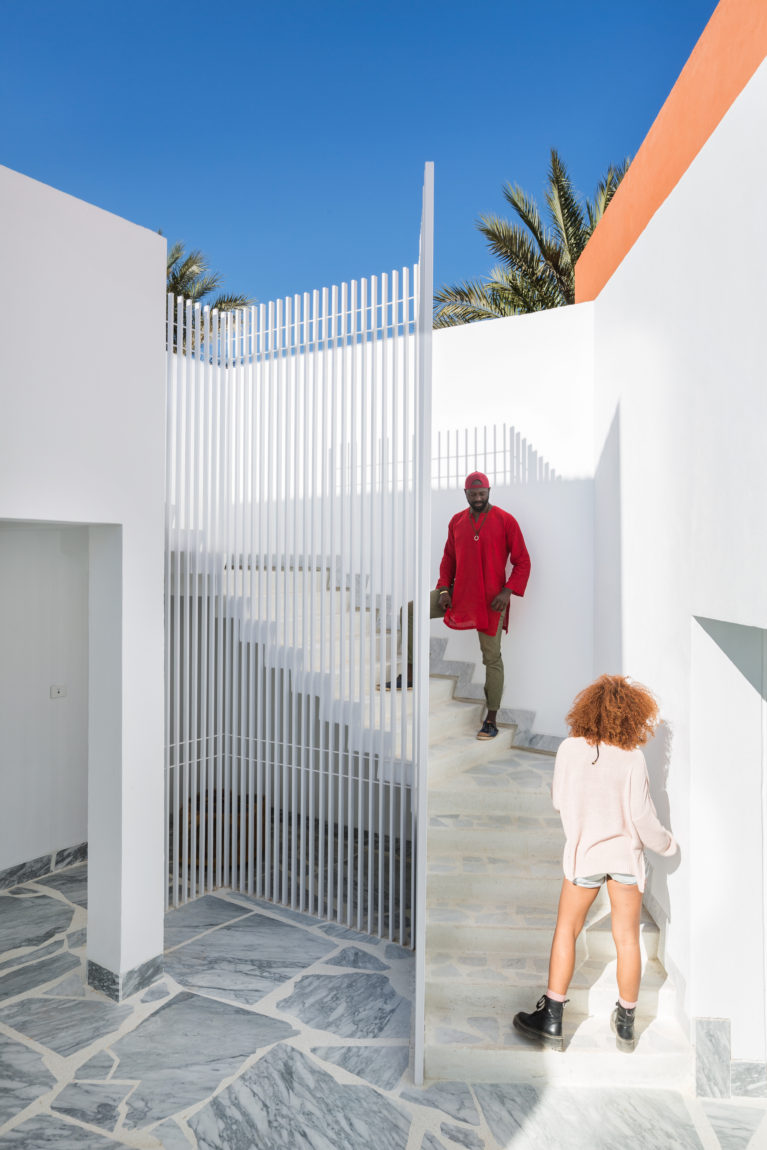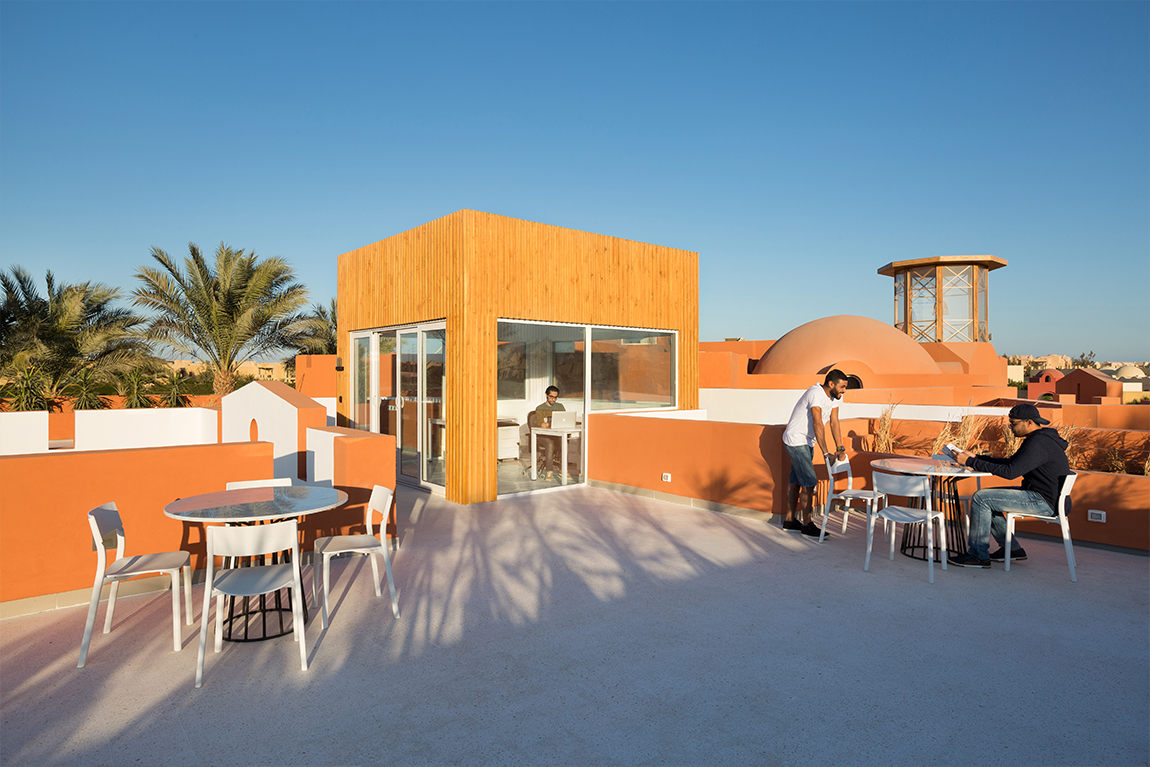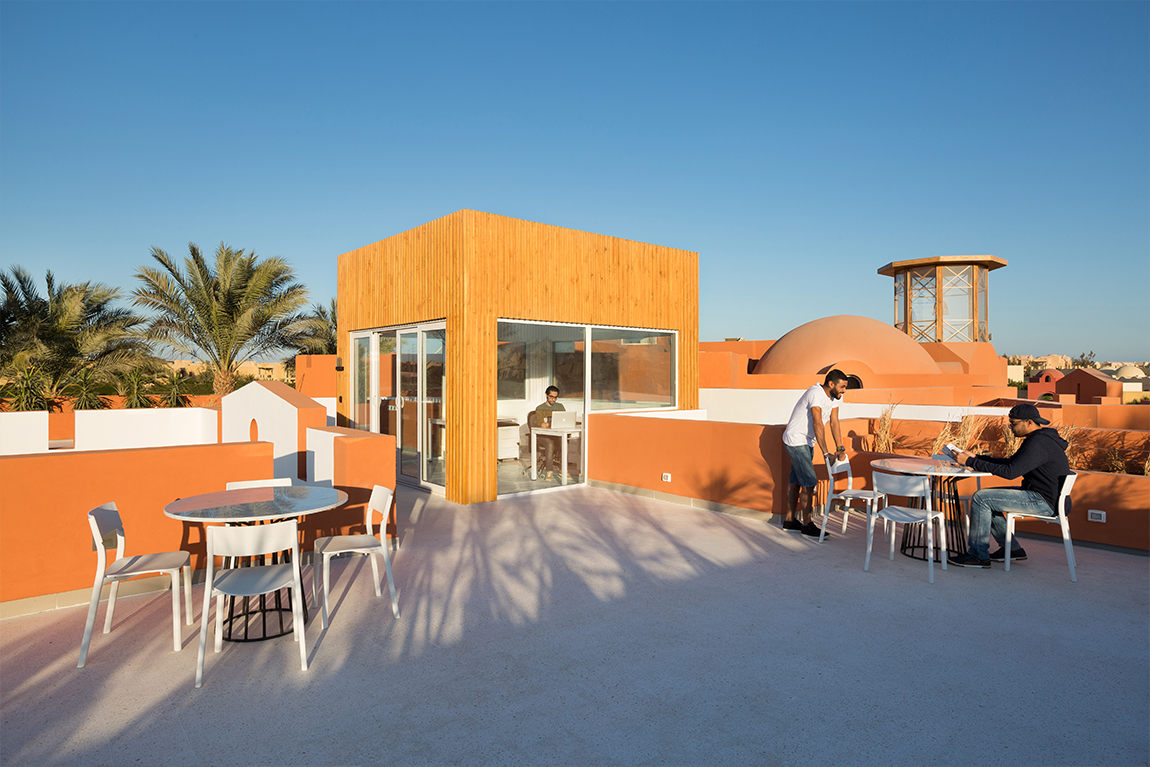 photography by ahmed ehab
designed: 2017-2018 by ramzi makram-ebeid
After a decade of designing offices in Cairo, the chance to design a 1500-meter space in a beautiful building, surrounded by 5000 meters of landscaping in Gouna was no less than a dream come true. To add to my excitement, Orascom Hotels and Development (OHD) – the owners and team leading the project – gave me full creative freedom and allowed me to do precisely what I was hired to do: design.
As a co-working space, it is important to note that we were creating a destination, a space that would showcase Gouna as more than just a vacation spot and as an ideal place to work. As such, GSpace had to offer all the necessary amenities to be conducive to work, but à la Gouna. As with all my projects, I started the design process with the functions in mind, not just basic functions, but ideal functions.
Tour of the Space
Entering at the reception, a public area with a bar greets you and allows visitors to welcome guests, take a break or work alongside an ice-cold beer. I introduced a computerized check-in system and once registered, guests can choose to lounge on a swing, sit at the bar or work in one of the booths placed under the extended skylight – an area that was previously outdoors. Lockers are also available for visitors' convenience.  
Prized elements of the space are Aya Tarek's murals on in the ceiling's domes.  Due to the size and height of the domes we needed acoustic insulation, which came at the price of the gorgeous exposed bricks.  Fortunately, we had Aya's talents to transform the circular features into unique focal points.
I converted a spacious outdoor area to an enclosed circular hall and installed sunken steps for seating. Designed for brainstorming, think tanks and presentations, the main hall has generous windows as well as a skylight, making it a gorgeous spot to work individually as well. Shading is available for the purpose of giving presentations during the day.  
For those who prefer the more conventional desk and chair option, be it for a few hours or a few months, hot desks are placed upstairs with large working tops, fast Internet, ergonomic seating, ample storage, telephone booths and a choice of writing surfaces that include walls, workstation dividers that double as white boards, as well as blackboard painted lockers. Filled with an abundance of natural light, this portion of GSpace boasts presentation areas, a chill out hammock that's suspended at three meters high, not to mention an awesome variety of people.  This area is also home to GSpace's first private offices; designed with glass walls, the three offices are ideal for organizations that require proximity to the open co-working space and want to remain in the center of the action.
Coffee enthusiasts have the option of going downstairs to the café, which was also designed to facilitate work. With a variety of seating options available, the café caters to people's various work needs while offering a full menu to the collective space.
In the recently optioned Phase II of GSpace, entire rooms that afford more privacy have become available. Offering the same amenities as Phase I, the expansive windows and the direct view of Yasmine Soliman's exterior landscaping bring the outside in and turn a workspace into something that feels much like a garden.  
The Aesthetics
I wanted GSpace to have a modern take on the existing "Gounie" Islamic style. The typically peaked arches were maintained, the brick dome was brought to life by Aya Tarek's stunning mural and traditional elements such as the mastabas in the main hall render the space luxurious yet still laid back. In this sense GSpace honors the nature of its namesake, while simultaneously showcasing how conducive to work it can be.
Phase I was branded using GSpace's existing palette, however Phase II offers tenants neutral spaces in order to personalize the rooms more easily.
One of my most rewarding ventures, the project was a blast from start to finish and I attribute its success to the team's great energy throughout.
GSpace groundfloor plans before/after: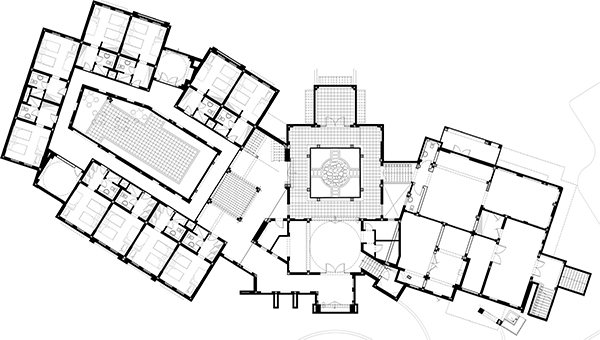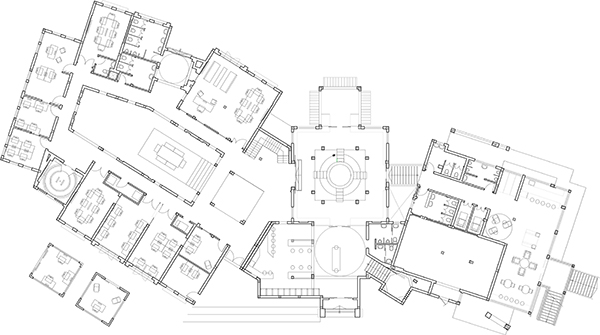 GSpace first floor plans before/after: