designed: 2010 by ramzi makram-ebeid
Ramzi is well versed in the top international trends and practices, yet he advocates originality and local identity. Ramzi understood well our brief and came up with great ideas…He was attentive to our budget limit but never compromised on quality. Best of all, he always gave us solid professional advice, something I find quite rare in Egypt.

Khaled Gadallah, Managing partner, Tonic International
Working with a creative agency is an endearing prospect seeing as they tend to be more adventurous and open to new ideas. For Tonic International's office, my main goal was to maintain the integrity of the 1940's building and its streamline Art Deco structure and interior.
Reinventing the Space
As was customary at the time in Egypt, the flat had a very closed off floor plan. The first step was to open up the space and bring in natural light and the beautiful view of the Nile. By demolishing non-load bearing walls in the main areas and bringing the large balconies in, a loft feel was created. Indirect light fills the office, as does the light from the newly installed expansive windows.
I love using the same flooring throughout spaces and though mosaic is considered a 'cheap' choice for flooring here in Egypt, I feel it is a beautiful, local, durable and very affordable option. The material also gives a very earthy vibe with its use of stones and pebbles.
The next step was to make the flat easily transformable from an office into an art gallery. By implementing a gray and white color scheme, art easily stands out in the space where the colors serve as a perfect backdrop for most work.
Meanwhile, the plexi ceiling was designed to light and modernize the space, as well as to display visuals from Tonic's extensive advertising catalog.
Work Areas
Unlike the surrounding areas, the reception area was given full blown branding. With a strong orange scheme, the room not only stands out, it is also central. By installing a large window and designing a high desk, the otherwise small room feels large and the receptionist meets clients eye to eye. As a special feature, the lighting above the reception desk has extra long cords, allowing the fixtures to be easily taken down from the ceiling and used anywhere in the space.
Tonic is all about collaboration so desks are undivided and they are all part workstation and part meeting table. The Art Deco lines of the table reinforce the style of the flat, yet maintains a minimal style so as not to distract from their work or the displayed art.
The balconies were closed off and installed with a false ceiling to add indirect lighting alongside the stainless metal pendants that distinguish this area. While the glass sliding doors in the middle were accented with appropriate deco hardware taken from old salvaged doors.
tonic floorplan before: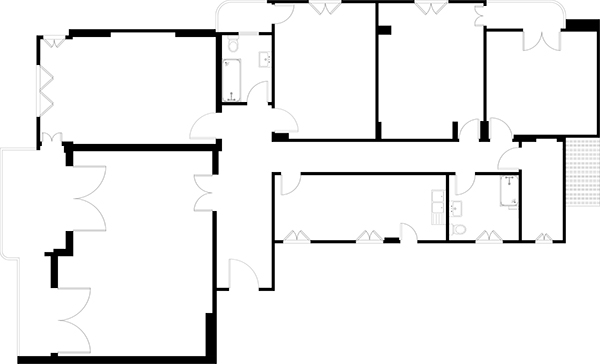 tonic floorplan after: