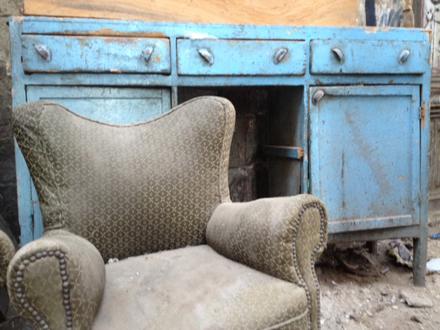 photography by ramzi makram-ebeid's phone at sayeda zeinab
whether you want to save money, be inspired or be green, this list helps you find unique and, for the most part, affordable items. as always, you have to haggle the prices down, and if possible, take a trusted professional, like a carpenter or contractor, along to get a second opinion. also, keep in mind that some of these places are in conservative parts of town when getting dressed. finally, some of these areas aren't too easy to access, so ask locals as you approach the area you're going to.
(listed in alphabetical order)
ezbet belal
 (ezbet belal is in the magale el kashabe section of  el shorabaya)
the salvaged wood from my "gouna bed" and "salvaged coffee table" are both from here. though a fire ruined much of the area last year, it is slowly regaining its stamina. this is the place to go to for salvaged architectural finishes, like wood, iron, marble, stone and tiles.
(recent purchases: very intricate 80 year old azizi wood door for only 800 L.E.)
 midan el game'
 (in the area around el korba, beirut street, and very close to midan salah el din)
around the midan, you'll find a number of stores that sell second-hand pieces. you can find everything from european, islamic to mid-century modern furniture here.
(recent purchase: beautiful thonet table)
robabekya
 (your front door)
the "bekya!" call is a central part of life in cairo, and if you don't know your local second-hand vendor, ask your neighbors or doorman. collecting/buying unwanted items, they know the city well, have interesting items and even take requests.
(recent purchase: cool fan from the 60's for 60 L.E.)
sayeda zeinab
 (near the fish market in zayeda zeinab, you'll find many side streets that sell 2nd hand/salvaged items)
though most furniture/accessories here fall under "fixer uppers," there's an awesome selection of extremely affordable pieces. even after repairs, the pieces you find here are still a great deal.
(recent find: Ideal metal desks for 100 L.E. each)
sapteya
 (on/around boulaq el gedeed street which is off of sapteya street)
though more expensive and with less variety than ezbet belal, sapteya is easier to reach and has a better quality selection of architectural finishes. the area is also home to many metal and wood workshops.
(recent find: insanely gorgeous french columns, unfortunately, their prices were equally insane).
souk el goma
(under al-tonssy flyover (the autostrade), between the southern cemeteries and the khalifa district)
 everything is sold here, old and new, all very affordable. in the midst of all this, you can find really cool second hand furniture and accessories.
(recent find: awesome 50's out-door coffee table for 40 L.E.)